Also in:

繁中 (Traditional Chinese)
Last time, we recommended 25 online courses that offer college credit and shared why 99.9% of on-campus college summer programs are not worth the time, money, and effort to join. In this post, we'll share 10 of the most prestigious college summer courses and 2 of the most prestigious summer programs. Later, we'll analyze their similarities so you will be able to make the right judgment on whether any summer program is prestigious or not!
---
What online summer programs are prestigious and can help students with college admissions?
There are many online summer courses that students can attend to get college credits. These courses are not easy (after all, they are college courses offered to college students, and you are a high school student), but these courses can enrich a student's knowledge, hence they can help with college admissions. If you miss our previous post, please click on the following link to see the 25 college summer online courses that we highly recommend:
---
Why are 99.9% of college on-campus summer programs not worth it to attend?
Learning can make you a better person, so learning any kind of knowledge is a good thing. Attending an on-campus summer program may help you learn, so if your motivation and goal is to learn something in this on-campus summer program, then this program will help you. However, learning can be in different forms: reading a business-related magazine, attending a dance class, watching a "How to Build a Website" video on YouTube, and even reading articles in our blog to enhance your knowledge on college admissions all count as learning!
However, there are four major problems with those on-campus college summer programs, which will cause a big difference in your "expected outcome" and "reality." After attending those on-campus college summer programs, high school students will realize that these programs are a waste of time and money without getting the expected outcome.
Here are the four issues with most on-campus college summer programs:
1. Most on-campus college summer programs are for high school students
Every summer, Asian students flock to on-campus college summer programs like Summer School Program at Columbia University or Center for Talented Youth (CTY) at Johns Hopkins. However, even though these programs take place in college classrooms and are taught by college professors or lecturers, these courses are designed for high school students. As the name implies, these courses are designed for "talented youth," and high school students who take honors, AP, or IB classes are talented youth. Therefore, even though you will score points on your college application if you do well in these "college" courses, you will certainly not "wow" admissions officers by doing well in a program designed for smart high school students like you, and the value of the program is certainly much lower than what you expect for "going abroad to a prestigious college for a summer course."
2. You cannot see the real campus or college life during the summer
Hosting college summer programs for high school students is a great way for colleges to generate extra income during the summer while real college students are on vacation. Therefore, professors for these "college" summer courses will not be strict with the students. Instead of calling this "attending a college summer course," these courses are more like summer programs where there's minimal academic pressure and limited advanced knowledge to learn. You will certainly make high school friends from around the world, but you will not be able to experience the real college life that college students experience, which includes academic stress, responsibilities, and changes in weather.
3. You will get a general recommendation that doesn't help with your admissions
There are thousands of students attending summer courses every year, and professors only have limited interaction with students over a few weeks of the program. Since professors are unable to get to know the students well, they are unable to write good recommendations. We are not saying that there is absolutely no chance that you will be the top performer for the entire summer, quickly get to know the professor, and have the professor be interested in you that he's willing to sacrifice his research time or free time to get to know you, have him like you a lot, and have him write a stellar, insightful recommendation for you. Nonetheless, the chance of this happening is slim to none.
So that you are hearing this from other students' first-person experience, A student who attended Columbia Summer School said all students' recommendations are almost identical:
…and the "evaluation" you get at the end of the course that everyone says is "great to send to colleges" consists of 4-5 sentences and is the same letter for the majority of the students.
4. These expensive courses will not help students get into colleges
Colleges see two positive aspects from students who attend these courses: 1) students are willing to spend time to learn something (though there are other ways to learn too), 2) students come from families with a good financial background, which means they can potentially contribute to colleges in the future.
However, colleges cannot see the student's potential from attending these programs, and colleges love to admit excellent people or those with high potential. Therefore, we do not recommend students to spend a lot of money on summer programs like these.
This concept was covered in the following YouTube video from Alex: (Video is in Chinese)
---
Prestigious College Summer Programs
99.9% college summer programs are not worthy to attend; what is the 0.1%? Below, we recommend 10 of the most prestigious college summer programs that will help with college admissions the most.
1. Canada/USA Math Camp
Cost:$0-4,500
Location:Champlain College
Website:http://mathcamp.org
Duration:5 weeks
Are good summer programs all run by "prestigious universities"? Perhaps you haven't heard of Vermont's Champlain College and think its Canada/USA Math Camp is bad. Obviously, this is a misconception on college admissions. Students who are able to attend Canada/USA Math Camp are math geniuses of the world. They "live and breathe" math every day as they indulge in solving college and grad school level math problems.
Canada/USA Math Camp admits only 13-15% of the applicants every year. If you are not sure how difficult the course is, all you need to do is to take a look at the program's qualifications. When applying, students need to submit an untimed, independently done math exam. The 2020 quiz has just 6 questions; take a look at question 1 and see if you know how to do it: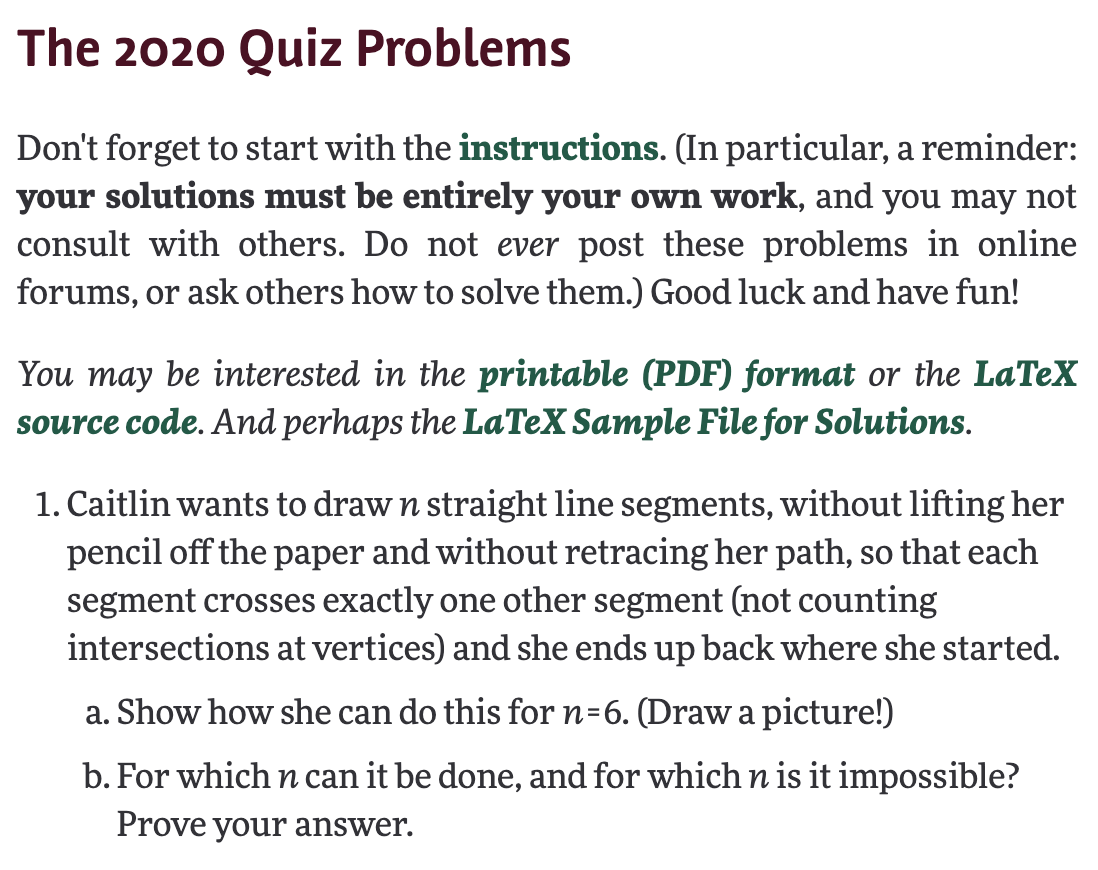 2. Foundation for Teaching Economics – Economics for Leaders (EFL)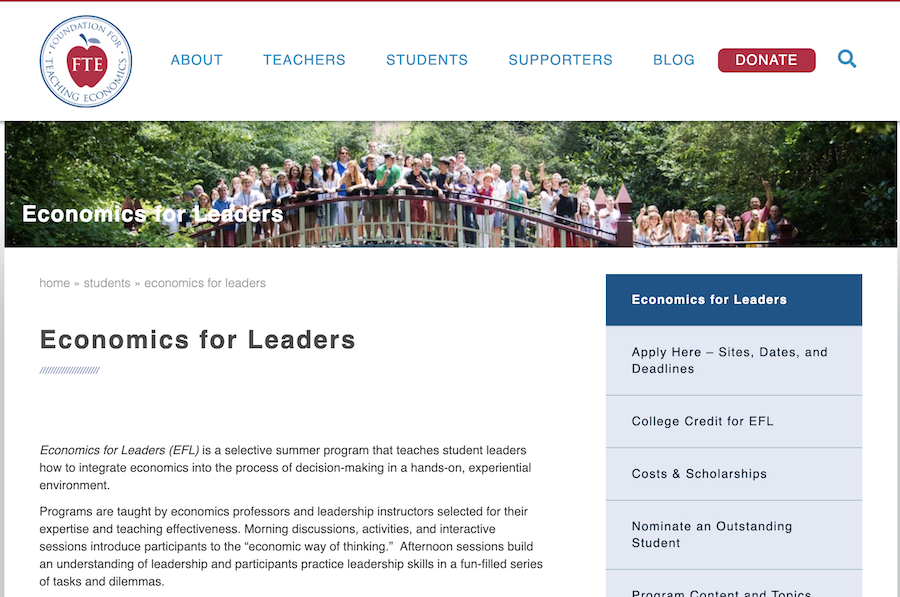 Cost:$1,800
Location:Brown, Emory, Cornell, Rice, U Chicago, U Michigan, etc. (17 campuses)
Website:https://www.fte.org/students/economics-for-leaders-program/
Duration:1 week
EFL is an economics-related summer program. In just one week, students will learn concepts in economics from economics professors and lecturers, discuss and participate with a total of 30 students, and have hands-on experience on integrating concepts in economics into students' daily lives and decision-making processes.
Compared to other activities on this list, EFL is worth the least in terms of its return compared to its cost. The program costs $1700 for just 1 week, and the acceptance rate for EFL is not as low as other research programs like Summer Science Program or HS-HIP. However, this does not mean the quality of EFL is worse than that of other programs: it only accepts 30 students per campus, which is much lower than the college summer programs that aim at making money for colleges.
3. Lincoln Laboratory Radar Introduction for Student Engineers (LLRISE)
Cost:$0
Location:MIT
Website:http://ll.mit.edu/outreach/llrise
Duration:2 weeks
This 2-week program at MIT for rising seniors to experience MIT's Lincoln Laboratory not only is free but also pays for the student's food and housing. LLRISE is a STEM research residential program; under the guidance of instructors from MIT, students can learn and design a Doppler and range radar by using creative problem-solving strategies.
In order to apply, students need to submit their transcript, standardized test scores, interest and ability in STEM, recommendations, and an essay, but most students will be rejected: in 2019, there were about 300 applicants, and only 18 students (6%) were accepted. Last year, one student who scored 1590 on the SAT and had a 3.9 GPA was rejected from the program, showing that interest in STEM and teacher's recommendations are as if not more important as good scores. Unfortunately for international students, this program is only available for American citizens.
4. Math Olympiad Summer Program (MOSP)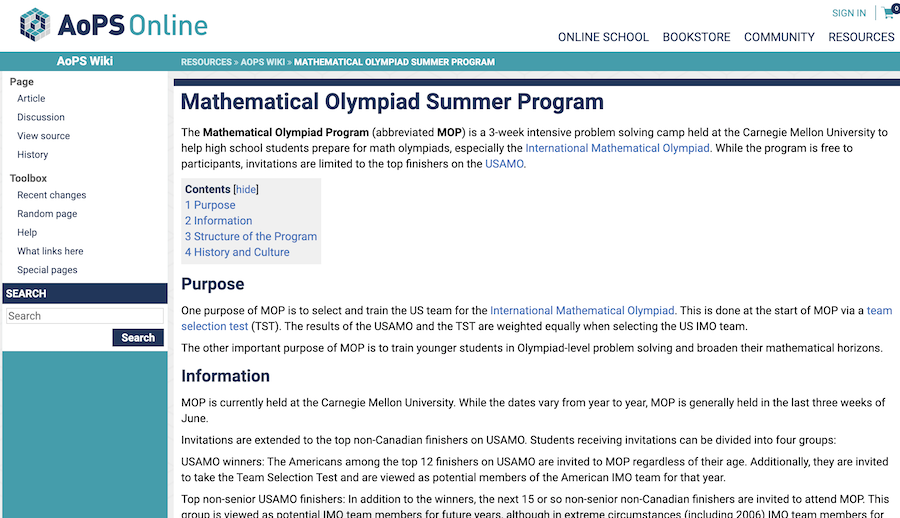 Cost:$0
Location:Carnegie Mellon University
Website:https://artofproblemsolving.com/wiki/index.php/Mathematical_Olympiad_Summer_Program
Duration:3 weeks
MOSP is the pinnacle of math summer camps and is even better than PROMYS and ROSS. MOSP's main purpose is to train American students for the International Math Olympiad (IMO). As a result, MOSP doesn't take applications; instead, students are invited by MOSP to attend. Only the top 12 or so members from the USA Math Olympiad (USAMO), known as Black MOPer, and the top 13-100 math geniuses in America will have the privilege to attend MOSP. US members from the China Girls Math Olympiad are also invited to attend to prepare for the Math Olympiad in China.
5. Minority Introduction to Engineering Entrepreneurship and Science (MITES)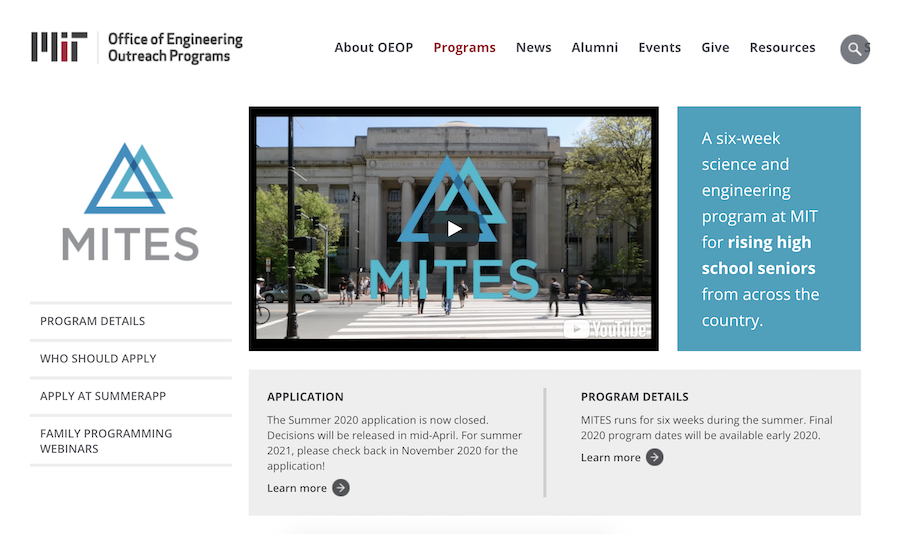 Cost:FREE
Location:MIT
Website:http://oeop.mit.edu/programs/mites
Duration:6 weeks
This is a science and technology summer program for minorities. Students must have extraordinary high school profiles in order to attend. This program is special in that it does not just focus on one STEM course: during the 6 weeks, students will take 1 math class, 1 biology and science class, 1 physics class, 1 humanities class, and 1 elective class, all at a very advanced level. Other than taking classes, MITES also arranges college counseling classes, laboratory visits, and other social events for students to attend.
6. Program in Mathematics for Young Student (PROMYS)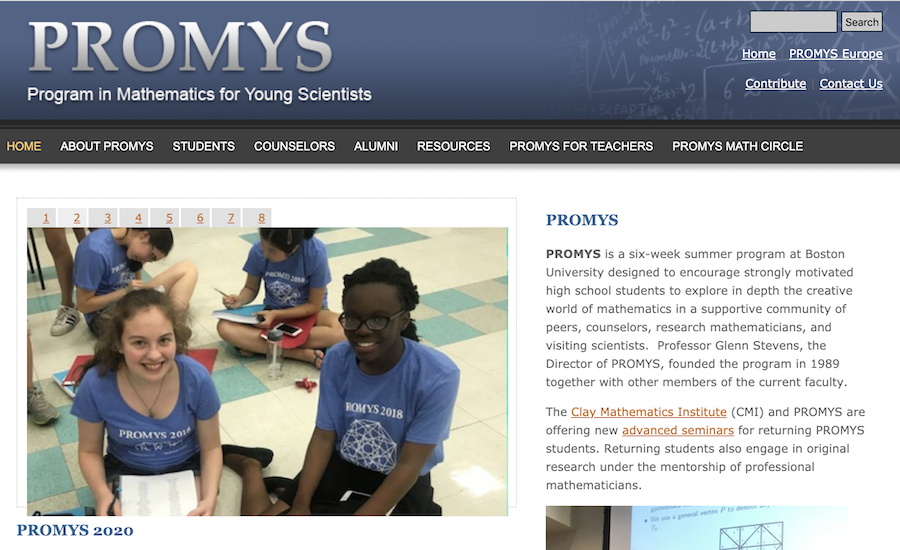 Cost:$0-5,150 USD (Students from families making less than 60k can attend for free)
Location:Boston University
Website:https://www.promys.org/
Duration:6 weeks
PROMYS at Boston University gathers top high school math talents from around the world. Those who are capable of attending PROMYS are students who can easily score a perfect 150 on the AMC12, who have the ability to represent their country in international math competitions. This program doesn't treat high school students as high school students but instead as mathematicians.
Although PROMYS charges an expensive $5,150 for its 6-week program, its official website states that the actual cost of the program is more than $7,000, but it is able to lower the cost for the students because of donations every year. In addition, students who do not come from affluent families can apply for financial aids and may receive a full scholarship.
7. Research Science Institute (RSI)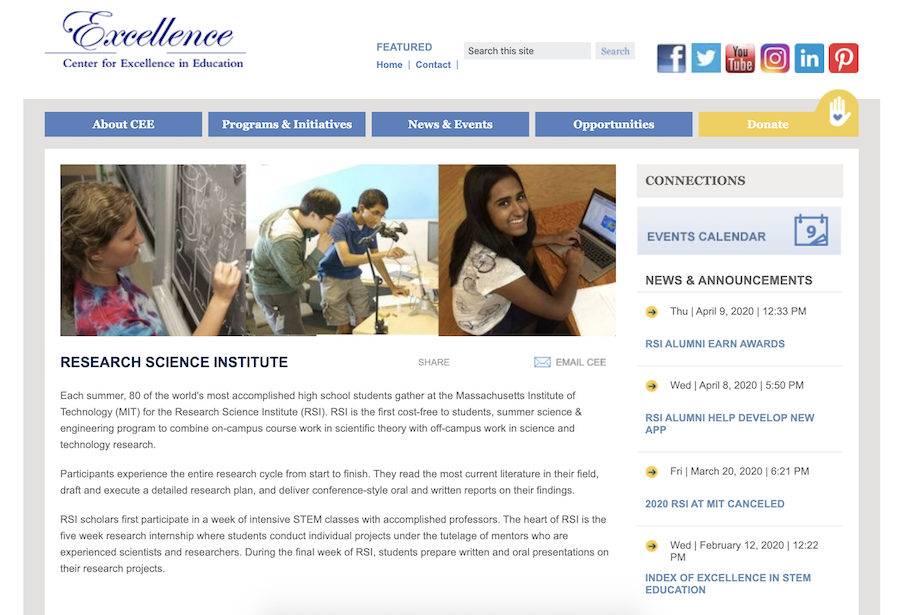 Cost:FREE
Location:MIT
Website:https://www.cee.org/research-science-institute
Duration:6 weeks
This is yet another program at MIT, but RSI is probably the most prestigious of all. Every year, over 6000 students apply, but only 80 students are accepted–this is a 1.3% acceptance rate! Among those accepted, about 1/3 are international students.
The 6-week program includes two parts: in the first week, students will learn intensive STEM classes from top professors, and in the last five weeks, students will complete a research project from scratch under the guidance of a mentor. Students must read countless papers, design and implement a research plan, create a hand-written research paper, and prepare written and oral presentations on their research projects.
Students who attend RSI will often bring their project to participate in top science research competitions like Intel Science Talent Search (Intel STS), Siemens Competition in Math, Science and Technology, or Intel International Science and Engineering Fair (Intel ISEF), and students usually have excellent performances in these competitions.
8. Research in Science & Engineering (RISE)
Cost:$7,519-7,779 (offers scholarship)
Location:Boston University
Website:https://www.bu.edu/summer/high-school-programs/rise-internship-practicum
Duration:6 weeks
There are two types of RISE programs: Internship and Practicum. Students who attend RISE under the Internship track will work on an experiment in astrology, biology, bioengineering, electrical engineering, mechanical engineering, neurosciences, psychology, or public health under the guidance of a mentor. On the other hand, students who attend RISE under the Practicum track will learn neurosciences, scientific methods, or design computational neurobiology models, taking classes in the morning and doing experiments in the afternoon over the 6-week research project.
RISE is the most expensive and has a higher acceptance rate than other science research programs like Summer Science Program and HS-HIP. However, this does not mean the quality of RISE is any worse than that of other programs.
9. Ross Number Theory (Ross Mathematics Program)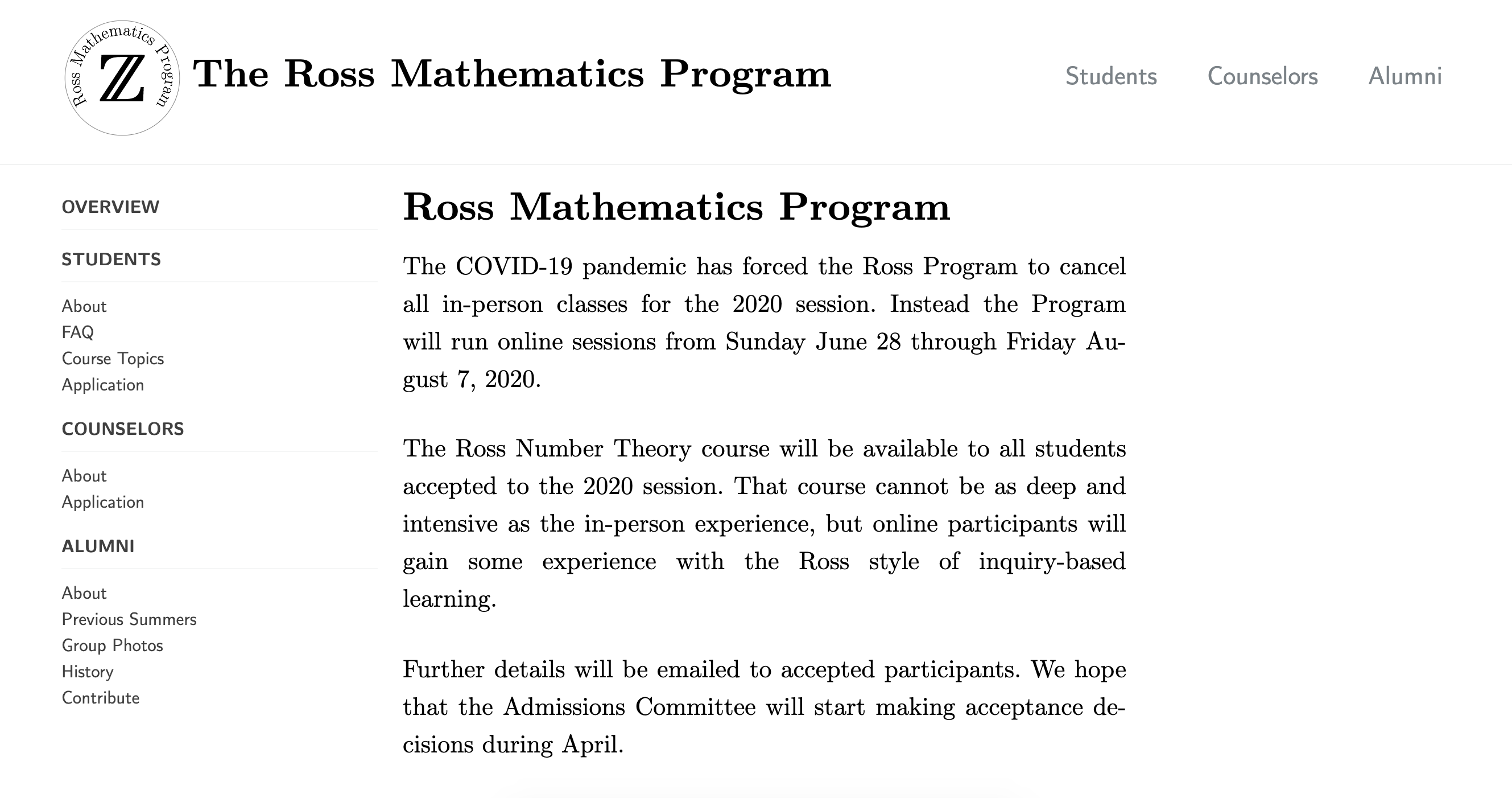 Cost:$5000 USD
Location:Ohio Dominican University
Website:https://rossprogram.org/
Duration:5-6 weeks
Being accepted by Ross Program is a proof of the student's math talent. In this 5 to 6-week program, students have 8 hours of class every day (5 lectures and 3 problem solving sessions) and a very heavy workload. Students applying for Ross need to submit school transcript, application essay, and teacher's recommendation.
Do you think multivariable calculus is difficult, or being on the school's math team means your math is good? At Ross, students learn about concepts like Euclid's Algorithm (Diophantine equation ax + by = c, proof of unique factorization in Z …), modular arithmetic (Fermat's Theorem, Chinese Remainder Theorem…), and polynomials (Gauss's Lemma, Cyclotomic polynomials…)–these are topics that graduate school math students consider to be very challenging! Therefore, Ross only accepts top math geniuses from around the world, and students who are accepted by Ross typically will become classmates again at MIT, Harvard, or CalTech.
Although Ross's $5000 tuition isn't cheap, it provides financial aid for students who need it, hoping that all students accepted will have the financial ability to attend. Ross's official website says its acceptance rate is less than 33%, but this is less than 33% from the top math geniuses in the world!
10. Summer Science Program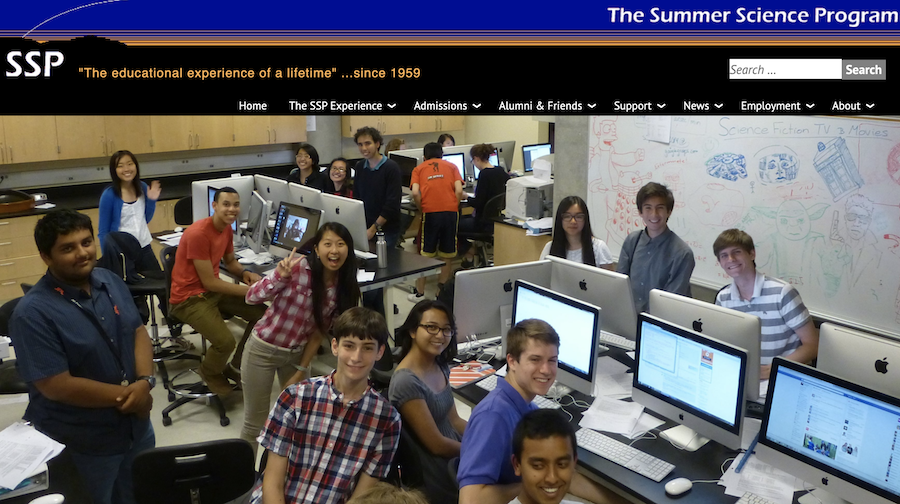 Cost:Up to $3950, as low as $0 after scholarship
Locations:New Mexico Tech, University of Colorado Boulder, Purdue University, Indiana University
Website:https://summerscience.org/
Duration:39 days
SSP is a non-profit organization that specializes in running research summer programs for high school students. Half of the students will be placed for conducting astrophysics experiments, while the other half will be placed for conducting biochemistry experiments. At SSP, students have classes and experiments for 6 days a week, attend guest lectures or outdoor classes, and create an experiment from scratch, from collecting data, analyzing data, and presenting the research outcome.
The original cost for SSP is originally $6950 (SSP says its actual expense is higher), but because of donations, the cost will be lowered by $3000. In addition, students can apply for financial aid and receive up to a full ride.
Students who are interested in applying will need to submit an application form, high school transcript, any standardized test score, teacher's recommendation, and short answers. In 2020, 1402 students applied, and only 144 students were accepted (10.3% acceptance rate), showing that the program is extremely selective.
11. Telluride Association Summer Program (TASP)
Cost:$0
Location:Cornell University, University of Michigan
Website:https://www.tellurideassociation.org/our-programs/high-school-students/summer-program-juniors-tasp/
Duration:6 weeks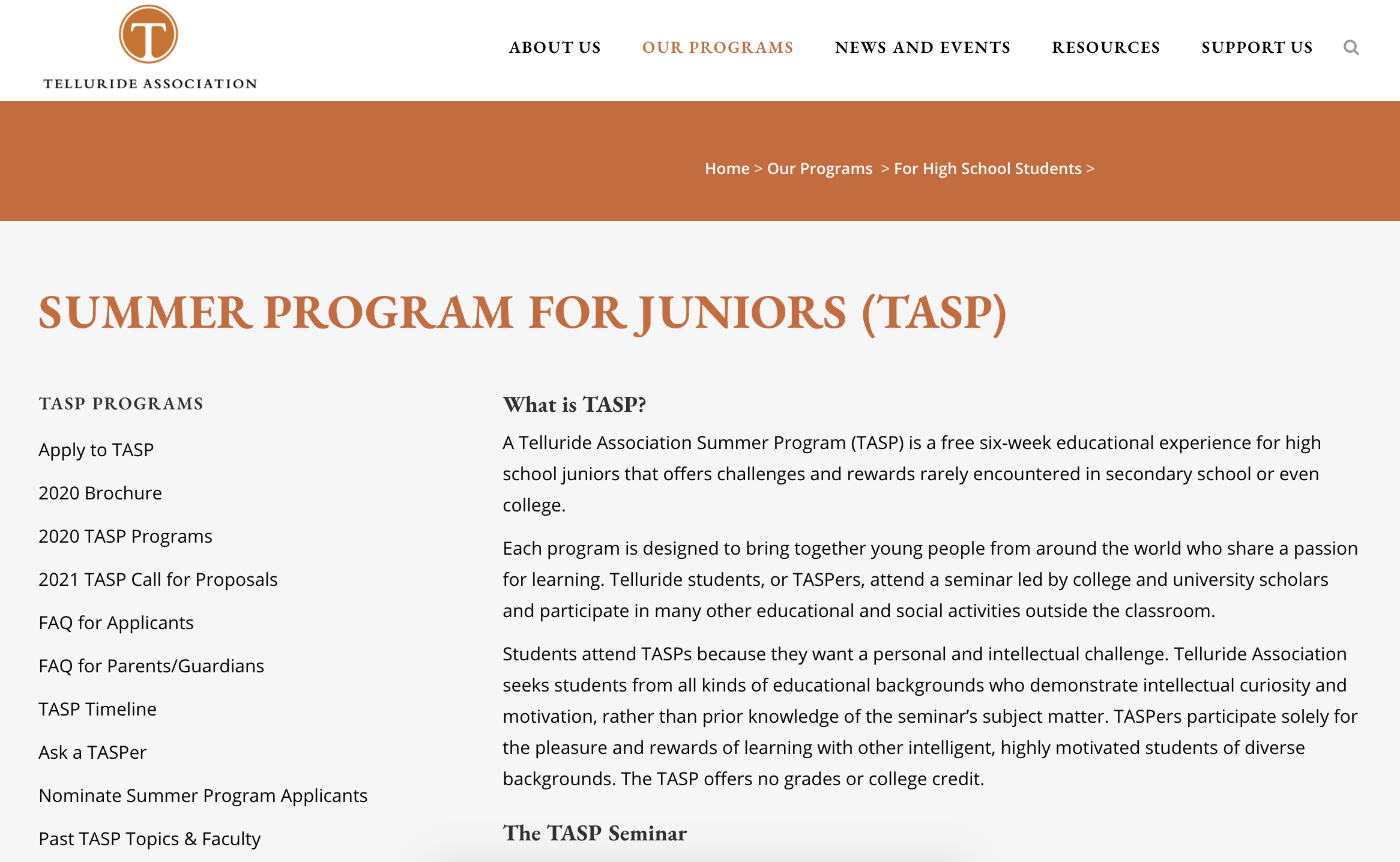 TASP is an eminent writing summer program in the US, and it's safe to call it the most prestigious humanities and debate-related summer program. The 6-week program will cover different topics, including literature, debate, writing, ethics, modern history, and public speaking.
Every day, there will be 3 hours of classes run by 2 instructors. The classes are discussion-based classes instead of the traditional lecture-based classes. In addition, there are a lot of homework to do after class, as students need to spend hours on reading and writing to prepare for the next class.
Although TASP does not grant college credit, and instructors only give feedback comments and not a number or letter grade, this doesn't mean TASP is easy. In fact, the difficulty of the classes at TASP is comparable to those at top-tier colleges, and the class will cover many topics that are covered in actual college writing classes. In addition, TASP has just a 3% acceptance rate (Ivy League colleges often have a 5-6% acceptance rate), and 20-30% of TASP students get accepted by Ivy League colleges, showing that TASP is extremely selective, and its students' levels are also extraordinary.
---
Prestigious summer programs not in a college
The following two programs are not run by colleges, but they are as prestigious as the college summer programs above!
12. Bank of America Student Leaders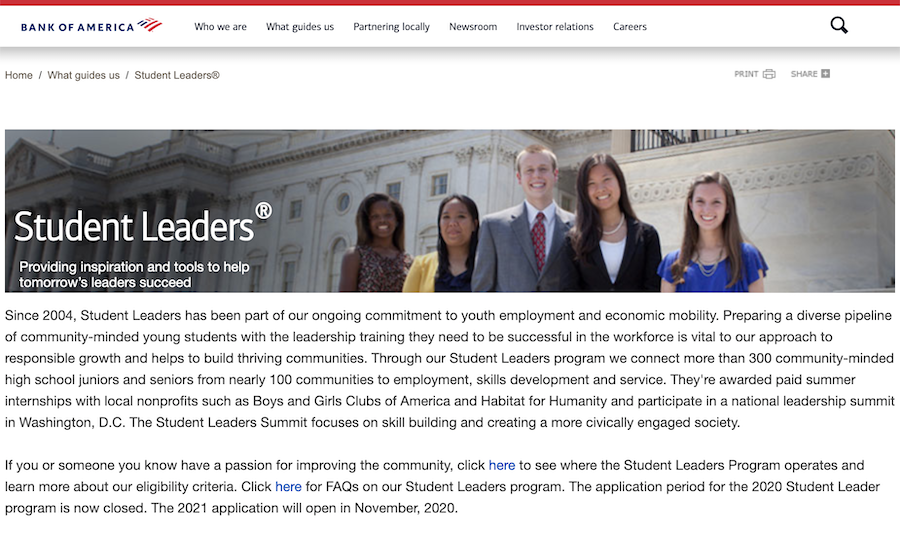 Cost:Paid internship, at least $17/hr
Locations:Different states in the US
Website:https://about.bankofamerica.com/en-us/what-guides-us/student-leaders.html
Duration:8 weeks
The 300 students accepted by Bank of America Student Leaders will first spend 7 weeks working in a local non-profit organization, then these student leaders will meet at Washington D.C. for a 1-week conference. Bank of American will not only pay students $17/hr (or the minimum wage in the state) but also pay for all expenses for the 8th week at Washington D.C., including the round-trip flight ticket!
13. Summer Internship Program in Biomedical Research for High School Students (HS-SIP)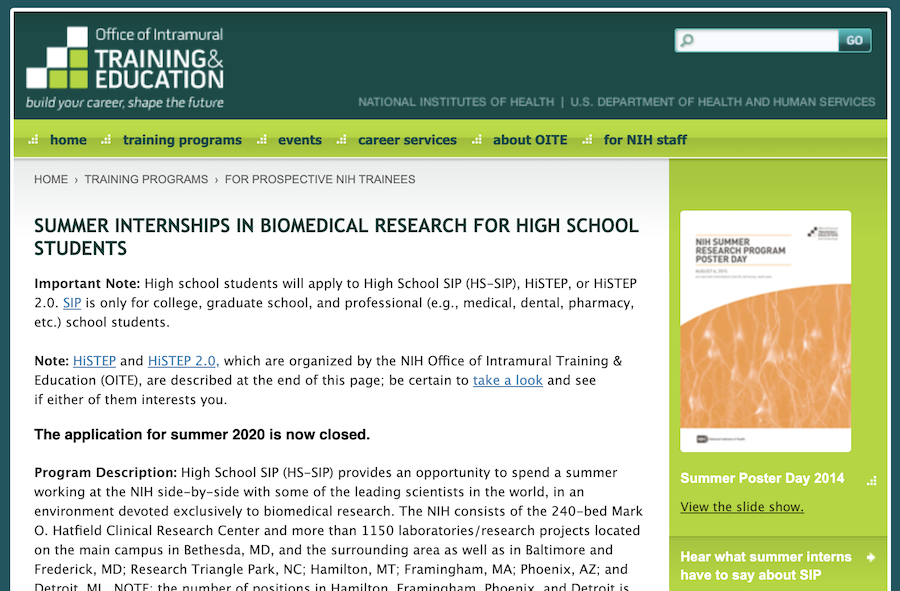 Cost:Paid internship $2,000-$2,300/month
Location:National Institute of Health
Website:https://www.training.nih.gov/programs/hs-sip
Duration:At least 8 weeks
The Summer Internship Program in Biomedical Research for High School Students (HS-SIP) run by the National Health Institute is probably the most prestigious summer research internship program in the US. It not only is free but also pays students a very generous $2,000-2,300 stipend! Students will work full-time in a biomedical-related laboratory with researchers. During this time, students are being treated as researchers from a research institution or a post-doc researcher, and students are expected to commit to the program in terms of time and effort as much as those researchers.
Because this program takes place in a national institute, students must be American citizens or have permanent residency in order to apply. To apply, students have to submit a resume, course taken in high school, transcript, self recommendation, and two recommender's contact information (they do not need to submit a recommendation yet). In addition, students need to pass a background check before they can be admitted. In 2019, 1436 students applied for HS-HIP, and only 213 students were accepted (14.8% acceptance rate). HS-HIP is not only a program that is difficult to apply, it is also extremely prestigious.
---
What is common to all these prestigious summer programs?
If you pay attention, you'll realize two common factors for these prestigious programs:
1. The program has an extremely low acceptance rate
If everyone can get accepted to a program, then it is not valuable. I'm sure you've heard of people who attend Johns Hopkins CTY, Columbia SPS, Yale Young Global Scholars, or Harvard Pre-College programs. Although CTY does not accept 100% of the applicants, its acceptance rate is drastically higher than the acceptance rate for Johns Hopkins University. Therefore, although these universities are famous, every college admissions officers know that most students can get into these "pay-for-play" programs (pay and you can get in). These programs exist to generate income for the university and have a negligible effect on helping you get into any colleges, so you should avoid them if your goal of attending them is to get into a top college! On the other hand, MIT's RSI has a 1.3% acceptance rate, and even the most selective universities have an acceptance rate that is 3 times as high. Programs like RSI are in a completely different league from JHU's CTY.
2. The cost of the program is low or even free
In the eyes of admissions officers, good things cannot be bought with money (unless we are talking about millions or billions of dollars). The 13 programs we have in this list have a common goal of finding the best students; as a result, all of these programs do their best to recruit the best students by lowering the financial barrier through financial aid or scholarships so all students have the opportunity to attend. Many of these programs in this list are free, and some are even willing to pay the students.
When a program's fee is high, the barrier of entry is no longer the student's ability but just the parent's financial status, and these programs are therefore less valuable. In other words, there's usually an inverse correlation between the cost of the program and the prestige of the program: the more expensive the program, the more money the school can make, but the lower the prestige of the program for students!
Also in:

繁中 (Traditional Chinese)